You should read these repair tips if you receive an error code for a national Instruments Vision execution license.
NI-IMAQ, NI-IMAQdx, and NI-IMAQ I/O Image Fullte Drivers
License (one-time) for NI-IMAQdx on at least one computer
Enablement is required only for the NI-IMAQdx driver, which supports FireWire (IEEE for 1394), (Gigabit Gigabit Ethernet) and USB cameras (USB3 Vision compatible or even DirectShow compatible). Enabling is probably not required for NI-IMAQ and NI-IMAQ I/O.
If the driver is installed and ni-imaqdx is not activated, the default is a 35-day trial period. After the 30 minute trial period expires, the NI-IMAQdx user and associated VIs will be up and running. However, your other current ni-imaq NI-IMAQ and I/O drivers and their corresponding VIs and performance will continue to work because users do not require a license.
Once you've just purchased a license for additional additional services, you can use it for free for life. Be sure to purchase a VAS license separately if you use computers for both development and deployment. No time, no machines with a license.
Visual Design Softwaregrip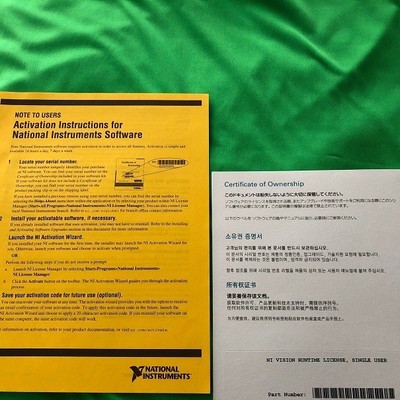 With NI Vision Acquisition software, you can acquire, print, and save images from various standard camera interfaces, such as GigE USB3 vision, Vision, cameras, and more at this link. You can also use any software to easily control I/O on NI Vision hardware. Quickly create situations with LabVIEW, LabVIEW NXG, and C/C++ with easy-to-use, feature-rich situation programs.
I want to deploy a standalone LabView machine without being swamped. I'm using imaq for a large shot from a firewire camera and basically using the standard p deviation on the image.
In the installer, I created the Labview rendering engine and the Vision runtime included with vi (as the main file) of the executable.
As you can see, the free Vision runtime was previously bundled. buy will have a new one elsewhere. My question is, is such a one-time license a fee or sometimes an annual fee? If it's a one-time license, that's fine, but if it's some kind of annual fee, I'm afraid it annoys me .
Secondly, is it possible to create a new one without NI Vision and certainly not need a license for the Vision renderer?
Issue Details
I understand that if my personal LabVIEW application includes Vision features, a run-time license for the Vision Development module is required.
How does this relate to a real-time application? Is it possible to also prepare a RunTime license for my RT.exe?